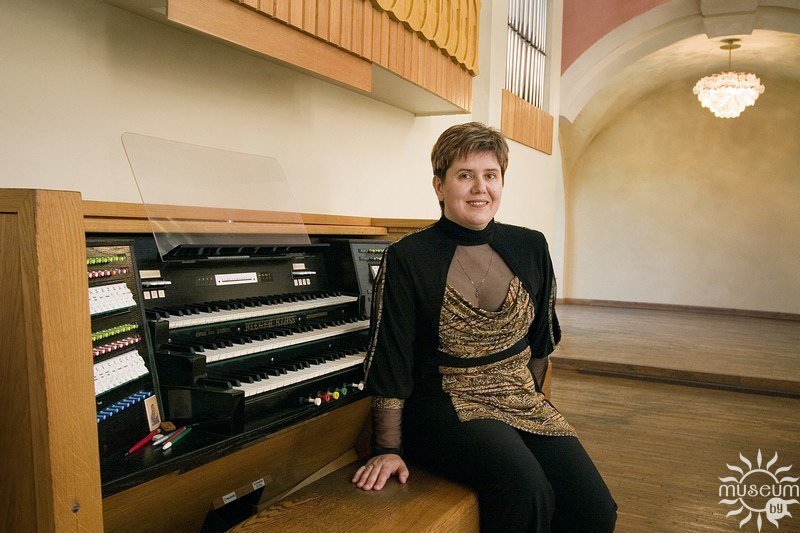 A soloist of the St. Sophia Cathedral in Polotsk, giving concerts in European countries, prof. piano and organ class in Belarusian State Academy of Music.
Kseniya Pogorelaya greduated from Moscow State Conservatory on the class of grand piano (prof. M.A. Fyodorova) and on the class of organ (prof. L.I. Roisman) in 1983. She took part in master-classes of many world-famous organists:W. Zerer (Germany),1990–1993, E. Koiman(Holland), 1991, I. Trumer(Austria), 1994, Y. Gembalskiy (Poland), 1994, K. Van Kutan (Holland), 2002.
From 1983 till 1988 Kseniya pogorelaya was a professor of Department of grand piano of Dalnevostochnyi Institute of Arts (Vladivostok).
Since 1988 she has been a soloist of the Sophie Cathedral organ concert hall. In 1993 she became the winner of the International Festival of Sacred Music "Magutny Bozha" (Mogilev, Belarus).
In 1996 Kseniya Pogorelaya initiated and organized for the first time in Belarus the International Organ Festival "Zvany Safii" in the St. Sophia Cathedral in Polotsk
Thanks to the International Organ Festival the organ concert hall in Polotsk was included into the process of the world organ performing art.
In 1999 Kseniya Pogorelaya participated in the organization and took part in the jury of the first Belarusian International Organ Competition "Gatchina-Polotsk", she also took part in jury of the V International Competition of young pianists "Small prince" (Gelendgik, Russia, 2005), she took part in the jury of the International Competition of Organists (Legniza, Poland, 2006).
Kseniya Pogorelaya realized a series of international projects:
1997 — "Belarusian sacred music of the XVII-XVIII centuries" together with Minsk Technological Institute(Nordwald,Germany);
1999 — charity concerts for repairing of the St. Sophie Cathedral Organ in Polotsk together with the Russian Choir of Basel(Switzerland);
1999, 2001, 2002 — series of charity concerts with the pupils of Pinsk musical school together with the organization "For the children of Chernobyl" (Germany).
The repertoire of organist consists of the works of XVI–XXI centuries. It includes the following programmes:Old French music, French-English Baroque music,German Baroque music, French romanticism, Russian Romantic organ, Belarusian Old and Modern organ music.
The Organist has many recordings on Belarusian radio, many TV programmes, articles in Belarusian and foreign newspapers and magazins are devoted to Kseniya Pogorelaya'creative work.